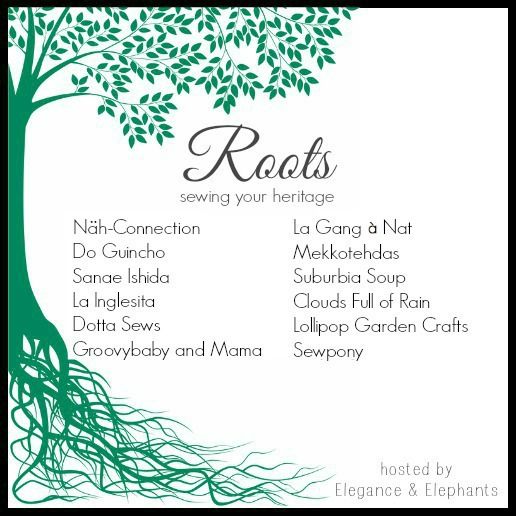 Good morning! Apparently all of Seattle was caught up in football fever yesterday, but I managed to spend the entire day blissfully unaware of this fact (I actually asked someone late in the day, "Is it the Superbowl?" and he looked at me like I was insane. Not a sports fan, I'm afraid…). Instead, I was working on creating this here post, having a grand old time.
Let's talk about the Monday outfit, shall we? Heidi of Elegance and Elephants contacted me a few weeks ago and oh-so-generously extended an invitation to include me in her roundup of talented ladies for her new series "Roots". In her words, "The Roots Sewing Series is all about celebrating worldwide heritage through sewing for children." I was in as soon as she told me about it, of course.
The expected thing would have been to sew a kimono, I imagine. So I decided to buck that expectation and make an origami-inspired, modern dress though there is a slight nod to the kimono with that cross-over bodice. Ever so briefly, I toyed with the idea of stitching up a Harajuku girl outfit, but came to my senses and realized I didn't want my daughter to be baring all that skin. That's not the heritage I want to embrace, though I think it's cool and quirky.
It's a simple dress, but I really took my time with it. And because of that, everything went without a hitch. It's been a long time since I've had hitch-less sewing…I used a pattern from this book as a base, but totally changed the bodice by adding diagonal pleats that mimic origami folds. Using Swedish tracing paper, I created pleats first, and then traced the original bodice shape and voila, a pleated bodice pattern piece. That part was surprisingly easy.
The star of the dress is the pocket. At first I wanted to make an origami heart, but that required too many folds and the fabric got bulky. I improvised and came up with a semi-heart, which I adore and it actually looks better in my opinion. Again, this took much less time than I expected to create. This deep pink cotton was easy to work with and resulted in perfectly crisp folds.
K loves loves loves this dress. "It's perfect for Valentine's Day!" she exclaimed, and look! I added a lace zip in the back. Let me write that again: lace zip. I now want to add lace zips to everything (in fact, I have one in black). Okay, there might be a touch of doily kitch going on here, but I think it adds just the right amount of sweetness and surprise to this rather minimal design.
The neck bias binding is sewn by hand, and again I took my time, and it looks fantastic. I'm learning from my previous mistakes, and stuck with the 120cm size and added an extra three inches to the hem — though it's still a little loose, it's not terribly so, and the looseness may have been because of my bodice modifications.
I feel as though I ought to expand on the whole heritage theme, but I am always going on and on about all the Japanese influences in my sewing so I fear I may start to sound redundant. I sew using Japanese pattern books, in simple, natural fabrics characteristic of the culture and I'm partial to minimalist designs. And for me, it's less about the elaborateness of kimonos but more about streamlined, clean aesthetics when I think "Japanese". Last year, I went to see a Japanese fashion retrospective at the Seattle Art Museum. I loved it. The fashions featured were innovative, architectural and oftentimes weird and avant garde looks (a dress that looked like a fish! insanely puffy, quilted outfits! planes and folds that defied gravitiy!). And yes, there were minimalist, monochromatic designs as well and they all represented Japan and my roots brilliantly. I realize I didn't achieve innovative, weird or avant garde with my dress, but it's an homage to the Japanese spirit of simplicity and the tradition of origami.
Oh, I shouldn't forget: the braces! Can you tell that she has pink and red rubber bands that match her dress rather nicely? As expected, she's become the cool kid on the block — according to reliable sources, every recess she's surrounded by peers younger and older, asking her all about her new teeth bling.
Thanks for letting me participate in the fun sewing series, Heidi! Don't forget to check out the other wonderful creations and what's even more fun is that you can sewalong and there are prizes — not to be missed!