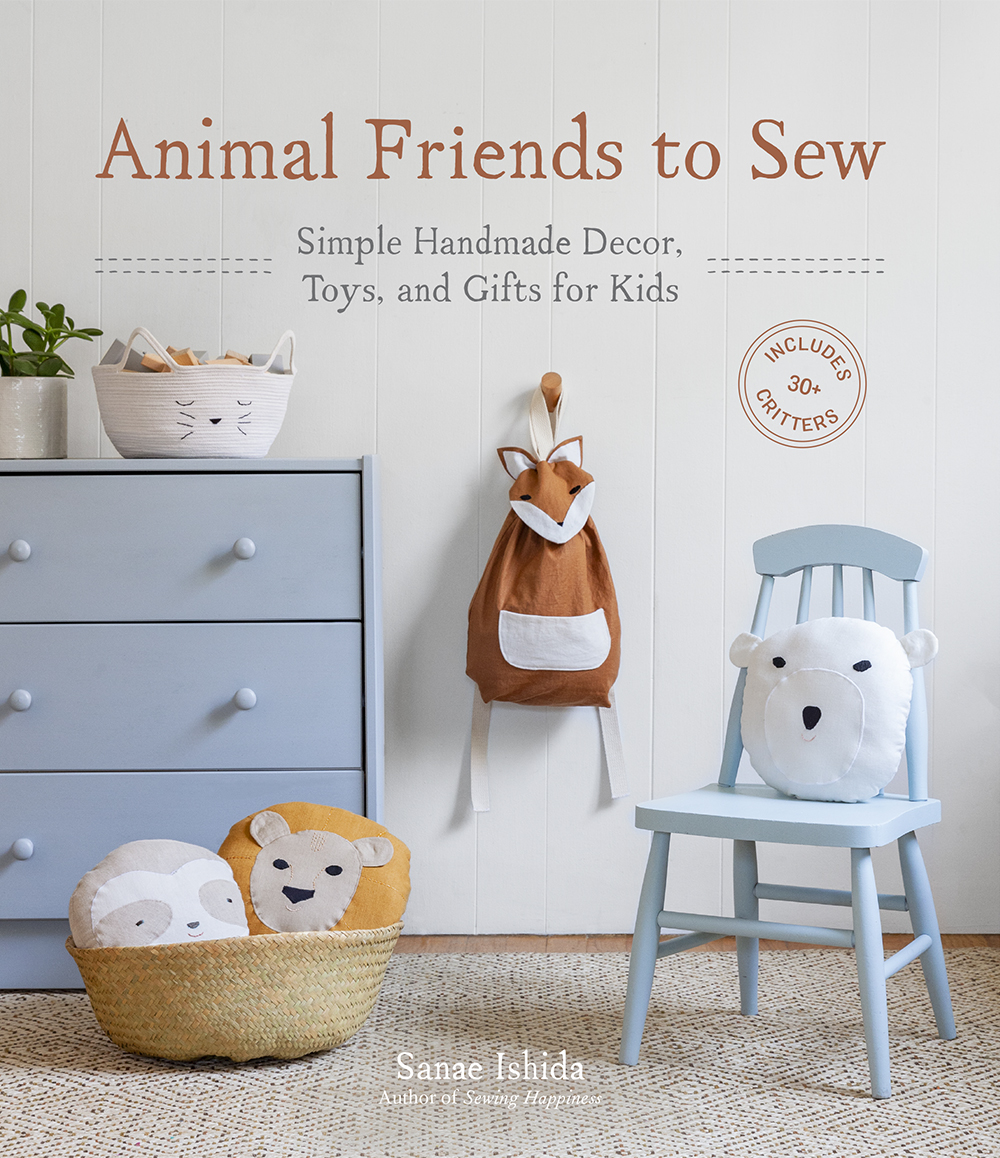 Hello, hello, my friends! What do we have here? It's my newest book!!!! It's called ANIMAL FRIENDS TO SEW: Simple Handmade Decor, Toys and Gifts for Kids and will be released May of 2020 through Sasquatch Books.
I'm so in love with this book. SO in love. It's very much the book I would have wanted when I first began sewing for K and all her itty bitty friends, and it's a grateful nod to the numerous Japanese craft books that inspired me to teach myself how to sew back in the early days. I remember scratching my sweaty head as I navigated the Japanese instructions, a perplexed expression plastered on my face. How amazing that I've been given the chance to produce my own kid-focused craft book in a language in which I have a bit more fluency. Side note: I can speak and comprehend Japanese at near native levels, but my nihongo reading/writing require assistance from Google Translate.
The folks at Sasquatch Books continue to make my book-making dreams all come true and I adore the entire staff there, but I am especially appreciative of my editor Hannah and art director Anna (we even had a photoshoot at Anna's gorgeous house) for this book! I couldn't have possibly pulled this project off without the magical expertise of Rachel (photo stylist) and Amy (photographer). "You guys are like unicorns," Hannah told me and from start to finish, this book really did feel unicorn-y. Can I also mention that we have the CUTEST models in the book? Plus, I've got to give a major shout out to all the testers as well — I had nearly 100 testers and they were fabulous. I incorporated their feedback and did my absolute best to make the instructions and illustrations as clear as possible.
So!!! I've been wanting to share the cover for awhile, but since we've been tweaking the last details I wanted to hold off until it felt pretty much complete. As of this week, I've turned in my proofreader edits and we're finalizing the back cover so it's feeling super official now.
And hey, how about some behind-the-scenes tidbits? When it came time to figure out the cover, I created four sketches and we photographed a few variations based on the sketches. I always love to see how concept sketches turn into final execution. The ideas go through a number of approval processes (including getting the buy-in from the Penguin Random House team — Sasquatch Books is now part of Penguin Random House). My favorite version was ultimately selected, and I let out huge whoops of joy! I thought it might be fun to share the sketches:
Isn't it cool that the final cover is so closely aligned in look and feel with the sketches?
Anyway! Did you know that pre-orders have a dramatic impact on the success of a book? The more pre-orders there are, the more exposure the book will get. Stepping up my marketing game is one of my big, big goals and I'll be getting out of my comfort zone a ton over the next few months. I'm so excited to share this book with the world and I've been working on a fun bonus digital gift that I will send out on publication day for all pre-orders! There are a couple of ways to receive the bonus gift.
1. Let me know that you've pre-ordered at sanaeishida13[at]gmail.com
2. DM me via Instagram @sanaeishida
Yay!!!
Thank you with all my heart in advance!!!!! xoxo
Pre-order ANIMAL FRIENDS TO SEW HERE