ANIMAL FRIENDS TO SEW
ISBN: 978-1632172358
About This Book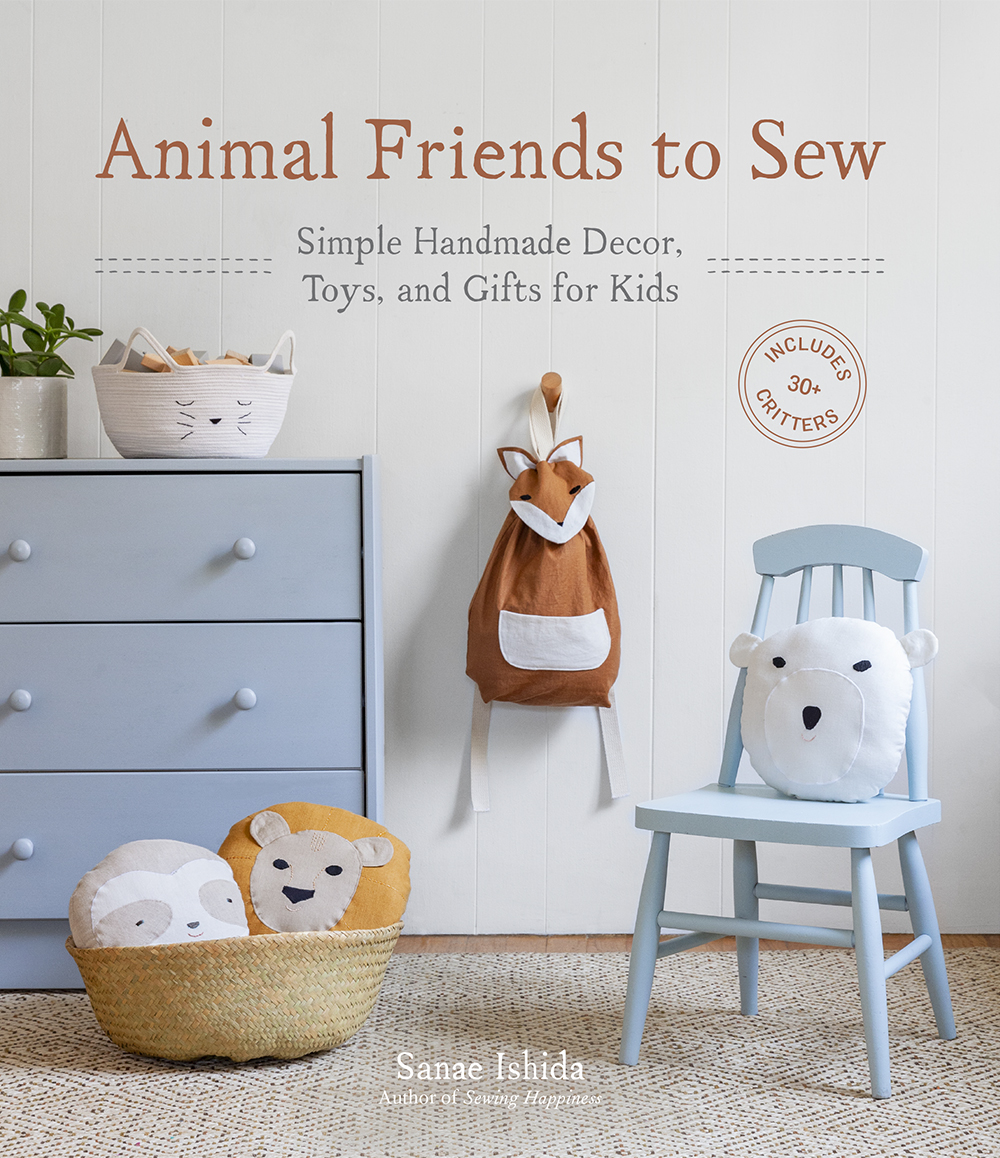 Create beautiful handmade animal friends for the whole family: a darling whale teether, adorable fox baby slippers, stackable animal blocks, a sweet lion throw pillow, or a fuzzy sheep backpack! Perfect for gifting, these one-of-a-kind handmade treasures are sure to be cherished. Inspired by the beautiful simplicity of Japanese and Scandinavian design, these projects will delight the creator as much as the recipient.
15 beginner-friendly projects with 35+ variations. Includes lookbook at the front followed by a sewing and embroidery primer, project instructions with photos and step-by-step illustrations, and templates at the back.
"Ishida (Sewing Happiness), a children's book and crafting guide author, provides a slew of child-friendly projects as adorable as they are functional. A chapter on sewing and embroidering basics should get readers up to speed before they begin the projects, which are divided among décor, toys, and 'wearables,' with the last section being the stand-out […] These sweet DIY projects will appeal to parents who are also avid or aspiring sewers, not to mention to their kids."
—Publishers Weekly
"Ishida (Sewing Happiness) presents competent guidance for the dedicated crafter, showing passion in the construction of each project in this new collection. Here, the photography, soothingly beautiful, depicts the projects in a way that helps readers understand the appearance of each piece […] A charming collection comprised of lovely fabric items ­crafters will enjoy gifting and creating."
—Library Journal
Ba-chan The Ninja Grandma
Adventures of Little Kunoichi, The Ninja Girl
ISBN: 978-1632171184
About This Book
In this new edition to the Little Kunoichi series, author and illustrator Sanae Ishida introduces us to Ba-chan, Little Kunoichi's wise, creative, and eccentric grandmother. Anything is possible with Ba-chan!
REVIEWS:
"Ishida excels at creating a fascinating world that combines the real (ninja water spider shoes!) and imaginative, and Kunoichi is a charismatic heroine with heart and gumption that parents and children can celebrate. Delightful."–Kirkus Reviews

"A wonderful family adventure; purchase where intergenerational picture books are in demand." —School Library Journal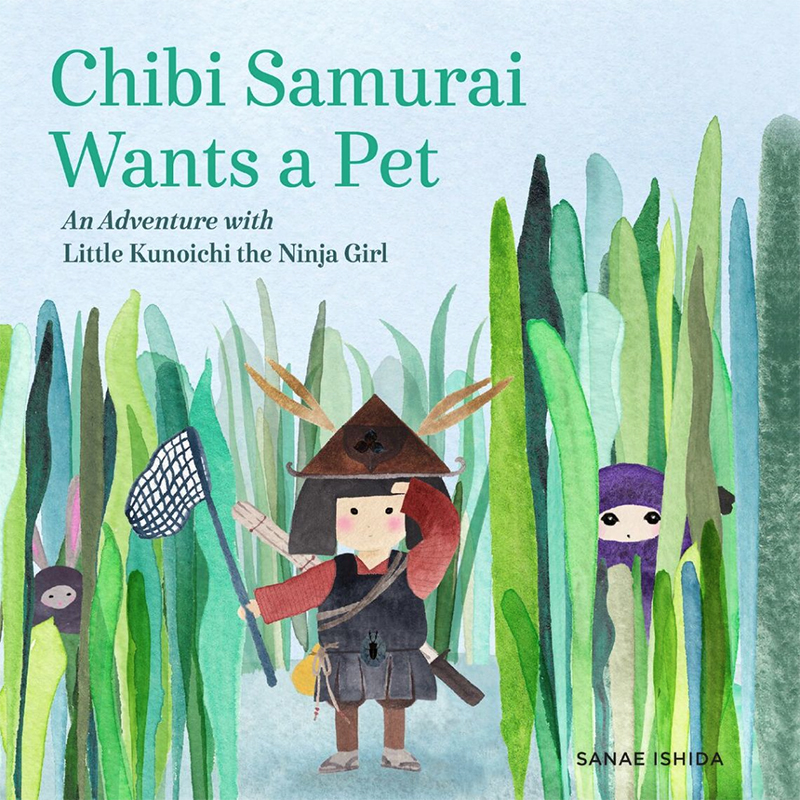 Chibi Samurai Wants A Pet
ISBN: 978-1632171177
About This Book
In this new additon to the Little Kunoichi series, author and illustrator Sanae Ishida's beautiful art pairs with a gentle, fun lesson, featuring Little Kunoichi's buddy, Chibi Samurai.
Inspired by Little Kunoichi's relationship with her pet ninja bunny, Chibi Samurai sets off to find a companion for himself. He explores many possibilities from Japanese culture–both real and mythical–thinking about how each creature might be as a pet.
Little Kunoichi and her pet bunny cheer him on as he searches and searches, until finally Chibi realizes that the perfect pet, just right for a little samurai, has been with him all along.
"Ishida seamlessly weaves Japanese cultural references into the text and art… A delightful romp."
—Kirkus Reviews

"The watercolor art with pen and ink whimsically complement this well-told tale… expands on the fun and whimsy of the previous book and will leave readers eager for more adventures with Chibi and Little Kunoichi."
—School Library Journal
Sewing Happiness
About This Book
Twenty simple sewing projects are tied together with a thread of memoir that tells the story of how sewing brought Sanae Ishida profound happiness. Each seasonal project, specially designed to promote health, creativity, relationships and more, provides gentle inspiration to live your best life.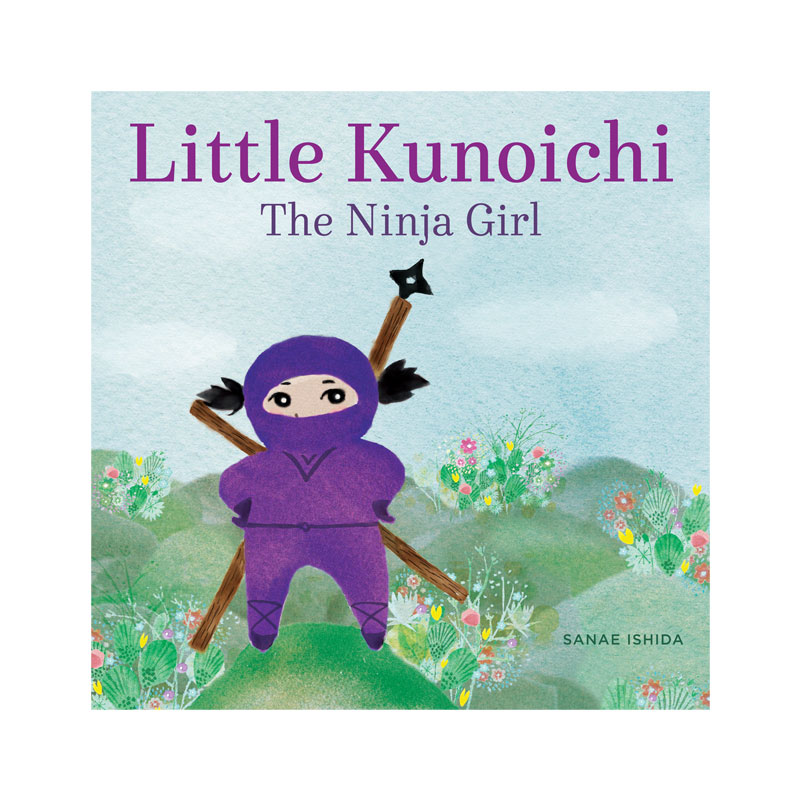 Little Kunoichi, The Ninja Girl
About This Book
Little Kunoichi, a young ninja in training, is frustrated. Inspired by tiny Chibi Samurai's practice and skills, she works harder than ever and makes a friend. Together, they show the power of perseverance, hard work, and cooperation when they wow the crowd at the Island Festival. Ninja skills don't come easily to Little Kunoichi. She needs determination—and a special friend—to unleash her power!
Ishida cleverly and drolly promotes the virtues of hard work, imagination, and play. There is much to intrigue both genders, from silly jokes and pink dragons to swordplay and cunning. Beautiful, vivid pops of color—at once both gentle and vibrant—fill the spreads. The lovely paint-on-paper illustrations have a winning honesty and whimsy. From the text to the artwork, everything about Little Kunoichi's life and culture is made to feel special. This thoughtfulness extends to the backmatter, as a concluding page explains Japanese words and cultural references. Stunning artwork, full of warmth and pizazz, presents a lovable heroine who will win hearts with her perseverance and humor.
—Kirkus Reviews, starred review